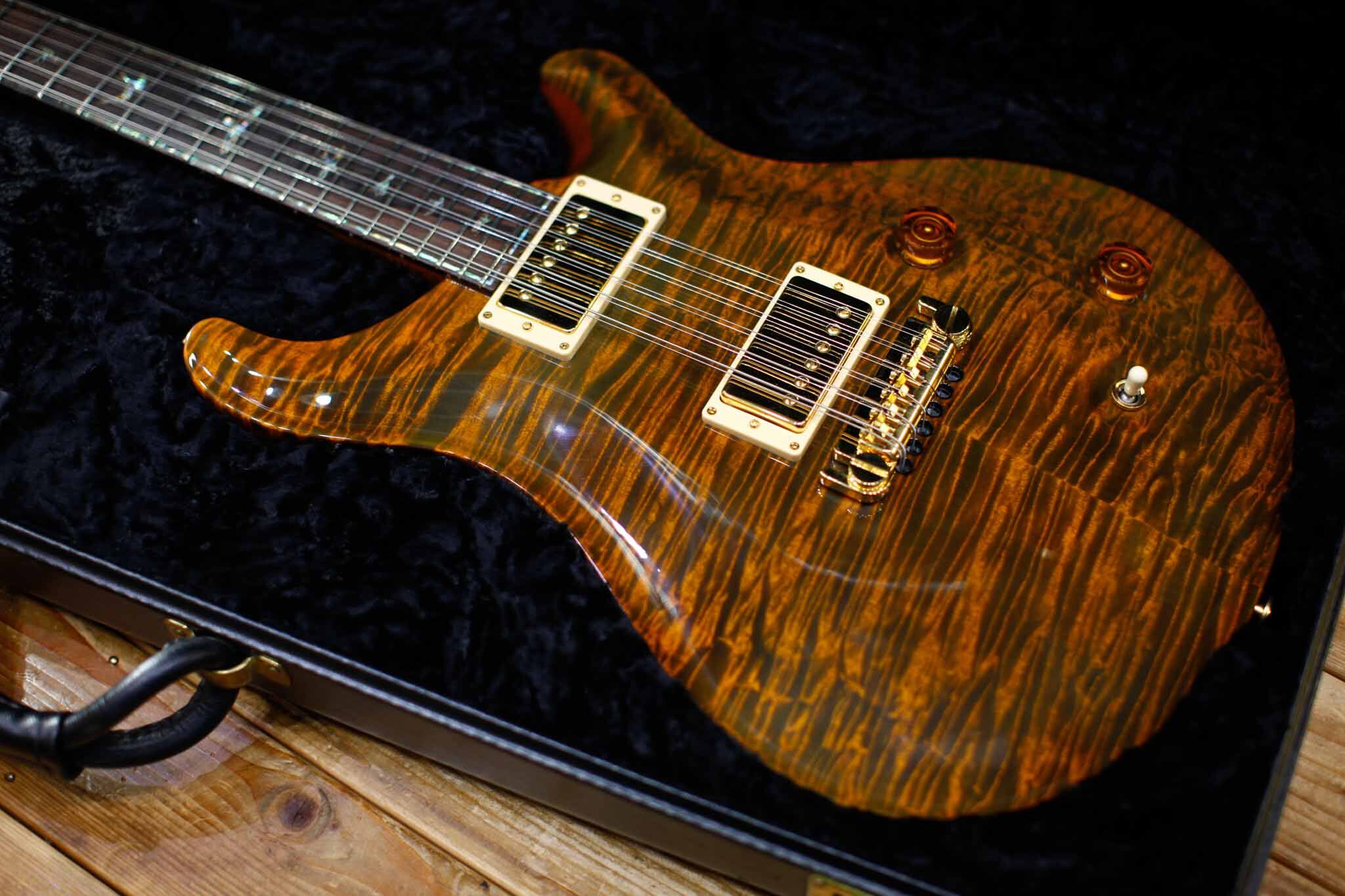 コレクター放出の大変貴重なアーリーシリアルのプライベートストックUSED品が入荷です。Paul Reed Smith、Joe Knaggs、Dave Hazel、Chris Bavaria、Kurt Tillingという布陣が製作に関わった1本。
販売価格:¥1,540,000円 (消費税込み)
2001年に製作されたポールリードスミス/プライヴェートストック。こちらの個体はPRSオフィシャルでも数回紹介されており、カタログやWEBにも掲載されました。
この時期はスネークウッドシリーズなどでも12弦ギターは製作されましたが、こちらはそれよりも若いシリアルである【#125】の個体です。
通常のマッカーティーよりも厚みがあり、手作業で切り出された強めのボディーカーブが特徴。指板はブラジリアンローズウッドです。
インレイには14カラットのゴールド・パーフリングを施されたパウアシェルを採用。特別な仕様を証明するかの様にヘッド部分にもイーグルインレイ(Paul Reed Smithではなく"Eagle Aerie"と刻まれています)が施されています。1フレットの静止したイーグルインレイにもご注目ください。加えて、マシンヘッドも特別なパウアシェルによるペグボタンが採用されています。このギターは細部にわたり特別な仕様だと言えます。
ボディーバックはサウスアメリカン・マホガニーをチェンバー化しています。この辺りの仕様に関してもこの時代のプラヴェートストックならでは、だと思います。
サウンドの傾向は非常に明るく、チェンバーボディーの開放感のある鳴り感が特徴です。さらに非常に弾きやすく、重量4kgでありながらヘッド落ちなどの無いボディーバランスなど、細部にわたりプライヴェートストックらしいこだわりが感じられるギターです。
この時代のタイガーアイ・フィニッシュは非常に深みのある色合い。美しく深い杢目の陰陽とあわせて、ブランドの最上位モデルとしての気品が感じられます。
初期のブラックレザーケース(オリジナル/スレなどあり)が付属。白濁が多く見られる時期のギターですが、この個体は画像の様に、その美しさを保っています。
ポールリードスミス氏のサイン入り証明書(透かしあり)が付属します。
付属品

*ケース :全体的に傷や打傷などみられます。
*その他付属品:認定証、調整用レンチ、ステッカー、当時のカタログなど一式付属。
SPEC
WEIGHT
4.00kg

BODY
Top:West Coast Curly Maple
Back:South American Mahogany (Chambered Body)
Finish:Tiger Eye

NECK
Neck:Curly Rock Maple
Fingerboard:Brazilian Rosewood
Headstock Veneer:Brazilian Rosewood
INLAY:Paua birds with 14 karat gold outlines, mother of pearl headstock banner reading "Eagle Aerie"

ELECTRONICS
Pickups:Archtops(Treble&Bass Both)
Controls:1Volume / 1Tone / 3WAY Toggle Switch
Final Assembly by John Ingram

HARDWARE
Bridge:Custom modified Badass bridge
Machinehead:Non-Locking Tuner
ーーーーーーーー
~English guide~
A very valuable early serial private stock USED product released by collectors.
One of the productions by Paul Reed Smith, Joe Knaggs, Dave Hazel, Chris Bavaria, and Kurt Tilling.

Paul Reed Smith / Private Stock produced in 2001.
This guitar has been introduced several times on the PRS site and has been listed in the catalog.
At this time, 12-string guitars were also produced in the Snakewood series.
This is before that time, and the cereal is young [# 125].
It is thicker than normal McCarty and features a strong body curve cut out by hand. The fingerboard is Brazilian rosewood.
As a special specification, "Eagle Airy" is engraved on the head instead of Paul Reed Smith
Also pay attention to the 1st fret eagle inlay.
The buttons on the machine head also use a special power shell.
This guitar has special specifications in every detail.
The body back is a chamber of South American mahogany.
The specifications around here are also unique to the private stock of this era.
The tendency of the sound is very bright, and it is characterized by the open feeling of the chamber body.
In addition, it is very easy to play, and although it weighs 4 kg, it is a guitar that you can feel the attention to detail that is typical of Private Stock, such as the body balance that does not cause the head to fall.
The Tiger's eye finish of this era is a very deep shade.
Along with the beautiful and deep yin and yang of the heather, you can feel the elegance as the top model of PRS.
Includes early black leather case (original / threaded, etc.).
It is a guitar at the time when a lot of cloudiness is seen, but this individual keeps its beauty as shown in the image.
An autographed certificate (watermarked) by Mr. Paul Reed Smith is attached.
~accessories~
Original case: There are scratches and scratches on the whole.
Other accessories: Certificate, adjustment wrench, sticker, catalog at that time, etc. are included.